I went to see the National Theatre Live screening of Frankenstein yesterday. Benedict Cumberbatch and Jonny Lee Miller were lovely, as expected. Super excited to see it again in two weeks time when they swap roles.
Came home yesterday to find Adam had finished building a log cabin in my lounge room. I don't have a big house, I know, but it's so much bigger than I expected! I remember agreeing to a cubby house for Liam, and suddenly, this! Door on hinges! Entrance tunnel!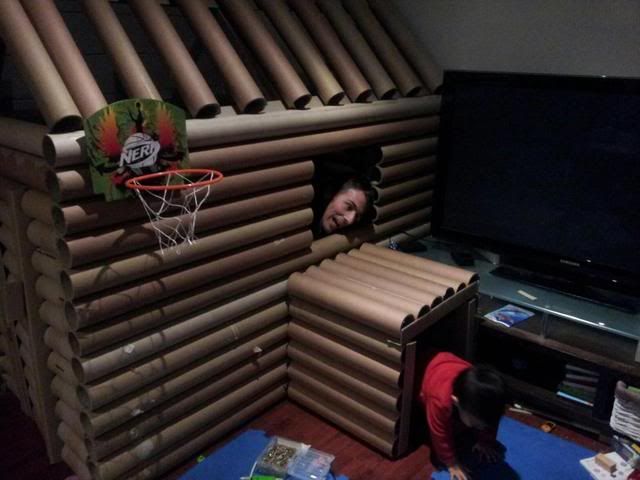 Adam took home a whole bunch of rolls that fabric comes wrapped around in, from his factory. They're *so* heavy, I could barely carry one. The whole thing is indestructible. After the screws and the hinges on the doors, the whole thing only cost just over $20!
Adam's put Liam's table and chair set inside, and Liam dragged in his soft toys and his tea set. He's giving tea parties and insisting that he eats all his meals on the table. It's like he thinks he lives there now.
We also found an old PS1 steering wheel at a pawn shop for $5, so bought if for Liam because he loves steering wheels. Adam built Liam an entire car around it out of spare wood parts around the home. It has a door you can open and a little chair and a spoiler and everything.
THE THINGS YOU DO WHEN YOU'RE POOR AND CAN'T AFFORD NICE THINGS.